Done! Â SKS-M shortened barrel with permanently afixed (blind pinned and welded) ak-74 4-piece flashider. Barrel is at a legal 16 3/4″. Â Gas system is stock SKS-M.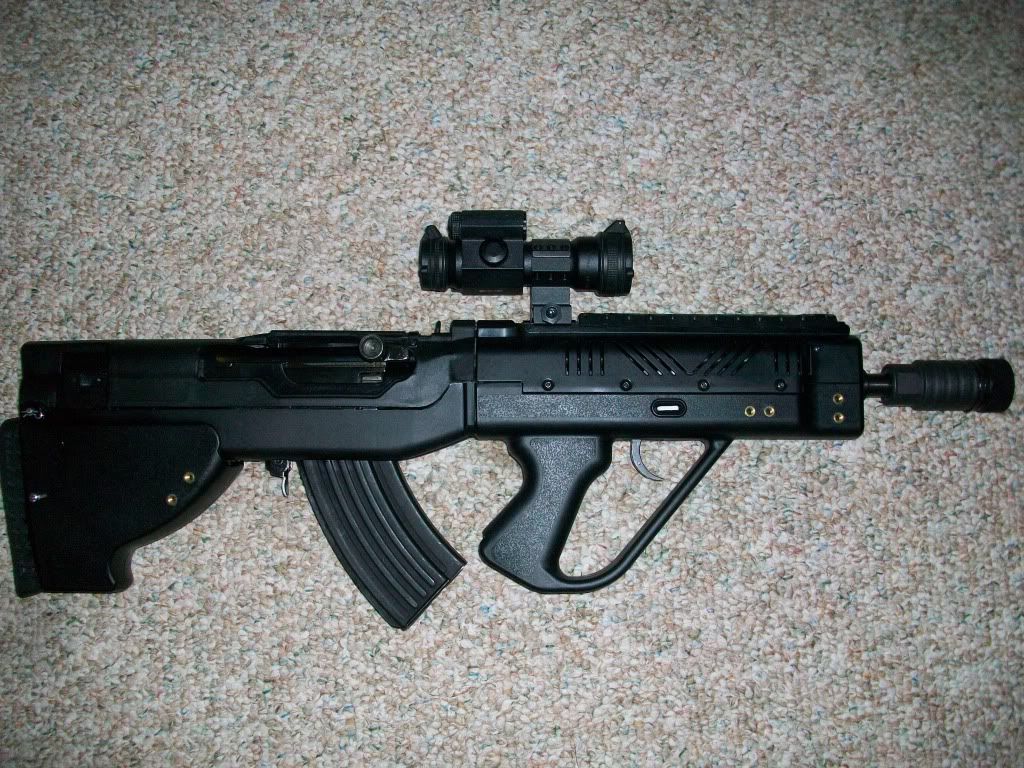 Love the trigger too!! Great for a bullpup.
About 7 hours of work into her. Â  Almost every part of the kit was readjusted, polished, sanded, fitted, buffed… Â Now it's tight, sturdy, and well balanced.
Blued the bolt and put a shotgun butt pad on the rear. Â The stock paint on the safety all but came off during install, so repainted with wife's nail polish. Red one side , white on the other.
BTW: need to take a bit of material off of the pistol grip to get 20 round tanker mags to fit. This one takes AK mags only not duck bill mags.
Looking forward to getting the front rails, I find the TDI flip down front grip fits the contors, feel, and look of the stock perfectly.
The riser that came with the Vortex scope is at the perfect hight as well. Â I find the whole package is about an inch longer than a krinkov SBR and about a pound or more heavier, not too bad for a carbine length barrel. the top front handguard and rear stock cover could be better. Â They look good, but the front handguard used bolts that could and will easily break through the plastic if over tightened or taken off and replaced too many times. Â The rear handguard could fit better with a little material removed from the inside. Â Doing so will close up and gaps between the top cover and lover stock but will also loosen up the cover. Â I left the gap along and opted for the tight fit.
Overall this is a great kit for home defence, plinking, and possibly three gun competition.  For competition  the 20 round mags may be an impeadiment if you mind frequent mag changes that do take practice to get right. However, It is also the best bullpup design for the sks out there.  If you want a military grade sks than keep it original.  If you want the coolest best handleing sks on the block, build this kit.
http://www.sksboards.com/smf/index.php?topic=60348.1290